MUMBAI: Rajya Sabha member and industrialist Vijay Mallya's personal website has been hacked allegedly by Pakistani hackers with "dire" threats that India's cyber space was not secured being posted on it.

The liqour baron's spokesperson Prakash Mirpuri said on Sunday that a complaint in this regard would be lodged with the city police on Monday. A Pakistani flag was also depicted on the website of the chief of Kingfisher Airlines.

"Dr Mallya's website www.mallyainparliament.com has been hacked and the Pakistani flag has been placed with a dire message from an organisation known as the Pakistan Cyber Army," the spokesperson said.

"A police complaint will be filed with the cyber crime as soon as the (cyber) cell opens on Monday," he added.

Mallya said he was shocked at the defacement of his website.

"This morning when I went into my site, I was utterly shocked to see the Pakistani flag and the message," he said, adding "what was more shocking to me was to see that it was done by some Pakistani outfit."

Mallya said he will report the incident to the Union government on Monday.

The defaced site says 'Feel the Pakistan' with danger signs and adds that 'we are sleeping, not dead'

"This is a payback from Pak Cyber Army in return to the defacements of Pakistani sites! You are playing with fire!, This is not a game kids. We are warning you one last time, don't think that you are secure in this Cyber Space We will turn your Cyber Space into Hell," the site says.

'And make sure that you have someone to Cry Over because we gona literally throw you in the deep sea, Will revenge ! if any pakistani site Hacked by Indian's!' the damaged site adds.

A cyber expert says that ahead of Independence celebrations, cyber attacks on the websites of both India and Pakistan are usually noticed.

"Some websites belonging to Pakistan get defaced while some sites of India get hacked. The hackers leave their mark to show their strength. Moreover, they target well known websites so that the hackers get huge publicity," Cyber Expert Vijay
Mukhi said.
Alsalamualikum

ap soch rahy hogy k ya pata nahi kia bakwaas likhdi ha is ne

ya bakwas nahi its true
http://timesofindia.indiatimes.com/india/Vijay-Mallyas-website-hacked-by-Pak-hackers/articleshow/6316150.cms
ap ya article times of india k is link per read bhee ker skty han jo meny diya .
[img]
[/img]
ya screen shot meny aj subha 11:20 per lia agar ap note kerain to is shot k right side per jahan likha ha "Mallya in Parliament on Facebook" is k nechy likha hua ha "My website -
http://mallyainparliament.in/
hacked by the Pakistan Cyber Army. Shocked when I opened site to update it. Saw the Pakistan flag and threats !" Yad rahy ya vijay mallya INDIAN PARLIMENT KA 1 MEMBER ha aur kuch Websites k Mutabiq Ya duniya k Ameer Treen Logon mein bhee shamil ha khair asal bat ki taraf ata hon.
is mein koi shak nahi k hacking 1 naqabal-e-muafi jurm ha sawal ya paida hota ha k Pakistan aur India k darmayan ya Cyber war ka silsila kab kaisy shuro hua..? aaian apko thora sa is k bara mein bataon.
ya Year 2008 ki bat ha k Pakistan Govtki 1 Official Website (Oil & Gas Regulatory Authority)
www.ogra.org.pk
ki website hack hogai jisay kuch Indian Youngsters ne hack kia jo apny aap ko HMG (Hindu Militant group) ya Gaurd Of Hindustan kehlaty thy.is hack hoi website ka screen shot nechy diya gya ha
kehty han k jo dekhny mein aur bazahir kamzoor lagta ho wo utna hi powerfull aur dangerous sabit hoskta ha to yahan bhee yehi yehi kuch hua pakistan ki is website hack hony k bad within a few days Pakistan Ki taraf se 1 HACKER GROUP PCA (Pakistan Cyber Army) ne indian (Oil And natural Gas) samait 5 INDIAN Websites HAck kerli hack hony wali websites ya thee
http://www.ongcindia.com
http://www.syscontech.in
http://www.iirs.gov.in
http://www.ctram.indianrail.gov.in
http://www.kvrtm.org.in
pakistan ki taraf se hack ki gai INDIAN OIL AND GAS KI WEBSITE KA SHOT AUR IS PER KI GAI WARNING AP NECHY DEKH SKTY HAN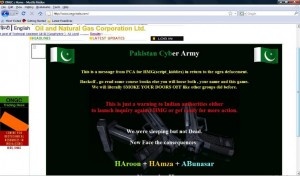 g to ab aap samjh gaay hongy k Cyber war ka ya silsila kab aur kaisy shuro hua. INDIAN PARLIMENT K MEMBER VIJAY MALYA ki website ka hack hona isi silsilay ki 1 chalti hoi kari ha.
well, according to PROPAKISTANI (Pakistan it and telecom news) Pakistan Cyber Army ne 1 email bheji is blog k senior user ko jo same to same neechy di gai ha
"First of all why were Indian sites defaced by us?
HMG has been playing around with Pakistani communities and websites for a long time now and on the top of that they are thinking that Pakistanis can't do anything?
LOL dude get a life. These defacement's were not dedicated for the fame of our group name PCA. Pakistan Cyber Army this group name was created right 5 minutes before we defaced these websites. This means we don't have any intention to spread our names nor we need to show our skill levels. This is just a matter of our nation Pakistan.
We cant stop HMG from defacing our websites … all rite go deface some more..don't come in forums and say we are crying and can't do anything..we don't have time for this **** seriously.. and yea … back off.. otherwise we really need to take out some time.. and as we said before ..smoke your doors off till u burn to ashes. (no offense )
OH the defaced websites got fixed?
All the people who think that anyone can control a website permanently if you break into it.. they are wrong.. there is no such way you can control a website completely. You can put your page for a period of time , until the owner of that website sees it and because he has the hosting control he is the only real owner no matter how deep you can go into it. So it has to get back to normal page anyways. that's why screen shots are used
HMG RE HACKED??
LOL all the Pakistani's should really be proud of this. First of all ..instead of bringing the site to the normal page, they are putting their messages on their own Indian websites HAHAHAHA lol anyways never mind ..
hacking a website again is not a big thing, anyone can do this if you are sure about the existence of a vulnerability in a website.
HMG hacked our oil and gas website.. that was a random act..
Our attack was planned , and dedicated to their OIL AND GAS website which makes sense plus it shows we Pakistanis can do it.
see we are white hats, don't force us to show our black hat sides , that be really bad.
PCA
Regards,"
hua kuch yuon k Donon Countries k senior hackers ne 1 joint statement di jo ya thee
"Joint statement of PCA (Pakistan Cyber Army) and Zombie_ksa(pakbugscrew)
PCA (Pakistan Cyber Army) and Zombie_ksa (pakbugs crew) comes into friendly terms with ICW (Indian Cyber Warriors, HMG). After a meeting, all of the three groups agreed not to deface each other's websites. It all happened when people from these groups realized that there is no use of such defacement and they should be instead involved in constructive work.
Apart from that , poor defaced organizations suffer from these activities.PCA, zombie_ksa and ICW is not responsible for the activities performed by other groups from both countries me r45c4l,on the behalf of ICW likes to make a statement that after
A series of defacing each other's government websites, we as well as PCA and PakBugs feels that this is not going to solve any problem and the things will only gets worse. The guys from ICW, PCA and pakBugs are all very talented and instead of harming each other we can help each other to tighten the securities of our sites and servers. So after a discussion with all ICW, PCA and PakBugs members, we would like to announce that we all quite this here and we will not hack each other's sites.
From now on if any one hacks any sites/servers or claims the hack to be done by either ICW or PCA or PakBugs, we will not be responsible for this. We all r sorry for the trouble and inconvenience caused by all of us
with regards,
PCA Team, PakBugs and Team ICW "
I am hoping same spirit would be shown by our politicians to draw peace in the region."
G to i m sorry apka kafi waqt waste kia aj bahar hal itni lambi post ka maqsad sirf ya batana tha k abhee hum mein kuch muhebb-e-watan maujood han hamain aisy he muhebb-e-watan logon ki zaroorat ha jo watan per aanch bardasht na kerskain i hope you will like this post meny sara data ikttha ker k isay merge ker k apk samny rakhdiya
Proud Pakistani
"Think 100 times before you take a decision, But once that decision is taken, stand by it as one man" (Muhammad Ali Jinnah)